Selling Derivatives Products – Course Outline
| | |
| --- | --- |
| A derivative product is a financial instrument whose value is determined completely by external variables. The external factor, or the underlying, could be anything but in general is either a financial asset or an economic variable (such as interest rates). Derivative instruments include forward and futures contracts, vanilla and exotic options, and swaps. | |
The "Selling Derivatives Products" course introduces basic vanilla derivative products such as forwards, futures and options with simple examples and also presents a comparative view to highlight the similarities and differences between them.
Course Prerequisites
Some familiarity with corporate banking and treasury products.
Course Audience
This course is an introductory course on derivative products for beginners and is also aimed at banking, corporate, treasury and sales teams.
Course Guide
Here is the structure of the course.
Session 1 – Core Treasury products and TMU customer reactions
38:02 mins
Session 2 – Derivative Crash Course: Vanilla and Exotics Derivative Contracts – A Quick walk through
43:22 mins
Session One: Core Treasury products and TMU customer reactions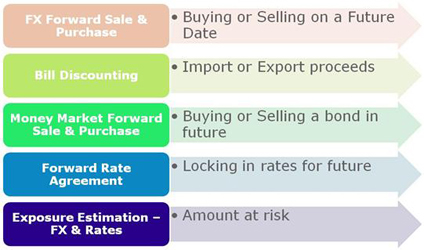 In this session we quickly walk through a laundry list of transaction types we are likely to see as part of the Treasury Marketing Unit (TMU) team including transactions on the FX and Fixed Income side. From FX sale purchase to Bill Discounting, from Forward Rate Agreements to Fixed Income trades we introduce the intent of each trade and then follow up with the list of common customer reactions to our trade ideas. As well as instances of how product and strategies could be used to answer some of these questions and reactions for our customers.

View a sample of session one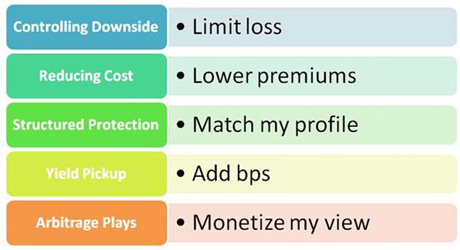 Session Two: Derivative Crash Course: Vanilla and Exotics Derivative Contracts – A Quick walk through

In our last session we use 44 minutes to quickly review vanilla products, introduce the concept of option trading strategies and review nine exotic products at a high level. The objective is to provide a quick introduction to the subject using real life examples which can then be supplemented by free as well as downloadable reading materials available on the site.

View a sample of session two

Back to top
Search the site
Random Testimonial
~ Corporate Training Testimonials

"A most amazing training - hands down the best, most useful, and most relevant I had during my tenure. Simply put, I loved it and will continue to build on the models.

Financial Modeling Course Participant
FGB Training Academy,
First Gulf Bank, Abu Dhabi, UAE

I have attended a number of training courses conducted by Alchemy technologies. Broadly, the areas covered have been Financial Risk Management aspects, Basel II implementation in Pakistan, as well as product knowledge for relatively new products in the our market for instance Financial Derivatives. As trainers, Mr. Jawwad Farid and his team bring in a wealth of conceptual knowledge entwined with their own professional experiences, adapting and honing it to our local market needs. The training courses are very informative and are delivered in a witty and energetic manner. The learning needs of the participants are kept in focus, and they are kept involved by interactive discussions and queries. Personally, I have always left these sessions with a much better understanding and grasp over the subjects delivered, which has helped me professionally."

Senior Manager & Team Leader
Treasury Middle Office
Habib Bank Limited

"Jawwad Farid has admirably led the training piece on the Treasury side covering Treasury risk, Treausury products, Derivatives (basic & Advanced), Fixed income securities (Basic & Advanced) and ALM training modules. Jawwad in our opinion is an "Outstanding Senior Trainer" who has deep subject matter knowledge and an uncanny ability to keep the participants engaged in the training process. So far our clients have expressed maximum level of satisfaction in Jawwad's capability to deliver high value training programs, that have tangibly enhanced their staff's skill sets.

Based on our direct more than satisfactory experience, Jawwad's otherwise exceptional track record on the training side with over 90 technical skill building courses in South Asia, Middle Eastern and Far Easterm markets, we have no hesitation in strongly recommending Jawwad Farid for the training that for participants based out of Malaysia or the adjoining Far Eastern Markets."

Mohammad Nasr Ullah
Principal Consultant
Consultnomics, FZE

I have loved each and every workshop from Alchemy. The workshops are extremely helpful in removing queries about Derivatives Pricing, Basel & Regulatory issues. I feel attending the workshops have added value to my knowledge and expertise. Moreover, the instructor is extremely knowledgeable on the subject area and ensures that each candidate returns with similar knowledge and expertise.

Senior Vice President
Compliance
Allied Bank"
What's the little bird saying?